Rose & Phil, Hallett Cove, SA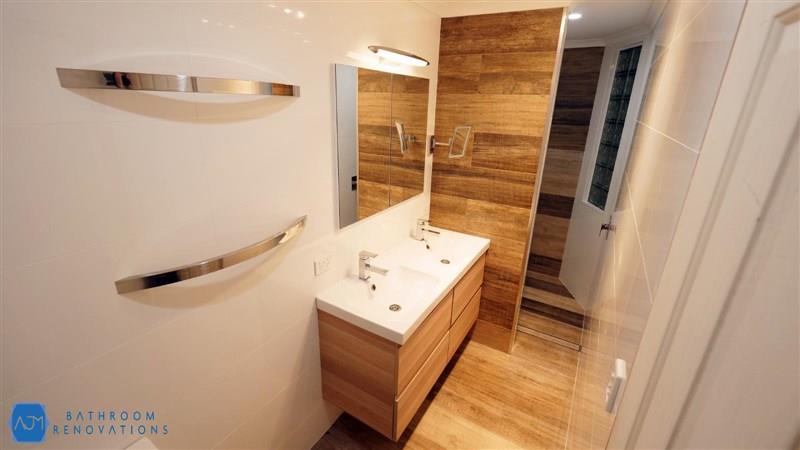 Otherwise known as the en-suite specialists! Check this transformation out. This en-suite is narrow and long – there is no getting away from that – but that doesn't mean it can't look amazing! Do you look at your en-suite and think there is limited options with it? AJM wouldn't look at it that way – we look at every en-suite firstly with the structure and physical space we have to utilise and secondly with exactly what you would like to achieve and that is when a unique bathroom design comes together.
Think outside the box – use your wall cavities for storage – like in this photo the recessed mirrored cabinet is set back into the walls. They also have double plug sockets inside so that they can charge their electric toothbrushes out of sight and off the top of the vanity. This en-suite backs on to a bedroom – there is no wall that is an exterior wall so natural light is hard to come by, however with the clever use of some glass blocks which have a full satin finish you can get that refreshing natural light whilst retaining the privacy as if it was a wall.
Timber tiles are in trend and look incredible if you are trying to bring texture to a room. They define the shower area and bring warmth into the en-suite whilst the white tiles break up the colour scheme and add clean lines and the exaggerate spacious feeling. Rose & Phil chose beautiful curved heated towel bars too, these are great for narrow bathrooms, you don't catch your hips on the squared off versions and they just add a completely different dimension to the en-suite. The tiled wall which separates the walk in shower area is a great feature too, it gives it that luxurious feeling and adds a sophistication to the space to show that it has been well designed.
Speak to AJM Bathroom Renovations today to see what is possible for you.