Terry & Cee, Black Forest, SA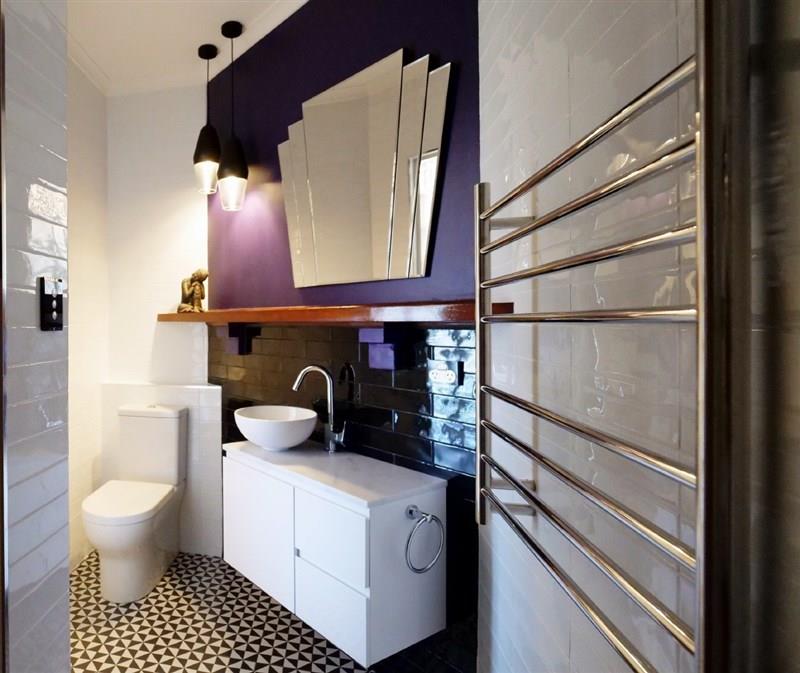 This AJM bathroom renovation is hard to imagine as a before and after – even with the photos as a visual. This is mainly due to the fact that the bathroom was not even in this room, in fact this room was a lounge before and not a bedroom. Starting from the beginning the original lounge was turned into a fabulous bedroom, of course every fabulous bedroom needs an exquisite en-suite bathroom. Look at the before photo – see the fireplace – that's where the wall hung vanity unit is now positioned, Terry & Cee retained the mantle so as to treasure a beautiful original feature.

AJM bathroom constructed the new dividing walls to create this new space and angled them perfectly so as to get the right flow for each room. The door way is a cavity sliding door so it utilises space well, especially as this cavity sliding door is actually on a push spring mechanism so it literally can just disappear into the wall. It's part of the platinum range of materials we source and using the older heritage style door it once again retains an original warmth to the properties age. It joins the new technology of the Jexis push mechanism to the heritage style within the house seamlessly.
You'll notice the full height glass block window, a fantastic way to get light into the room. The bathroom was unable to have exterior windows due to its position within the property so we utilised the bedrooms natural light whilst also giving 100% privacy with a satin finish to the blocks.

This bathroom really is like no other we have completed within our time at AJM bathroom renovations, Terry & Cee brought the colours, the materials and the finishes together in their product selection and have conjured up an opulent art deco bathroom. Everything from the black and white floor tiles, to the purple painted feature wall - not to mention the classic fan art deco mirror which really adds that extra wow factor! Art deco may not be everyone's cup of tea, not everyone may be brave enough to embrace bright colours and unique pieces – but Terry & Cee knew the look they wanted it and with the help of AJM bathroom renovations together we've brought all their ideas into a reality.

Some particular favourite pieces are the ripple effect subway tiles on the walls, the large shower area with clear glass and chrome fixings and in particular the unique atmospheric pendant lights which really add that sense of luxury to the room. Terry & Cee were an absolute delight to work for, at AJM bathroom renovations our customers are important to us and we always strive to give the end result they've wanted. The photos do not do this space justice – it really needs to be seen to be believed just how well this space works!