Phil & Vicki, Oaklands Park, SA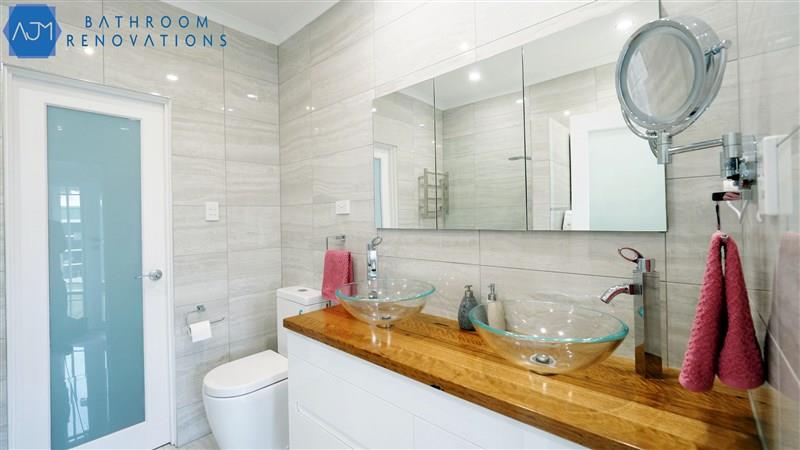 What a transformation this turned out to be.....Phil & Vicki's brief was based around making a more inviting bathroom whilst retaining its use as a laundry room – the photos speak for themselves in saying "the brief was well and truly exceeded". Generally speaking a bathroom mixed with a laundry room doesn't shout out luxury or a space of zen, is it impossible to get the perfect spa like bathroom which incorporates a washing machine..? ABSOLUTELY! AJM bathroom renovations teamed clever cabinetry, newly built privacy walls with Phil & Vicki's choice of products and made all of this possible.

As you can see in the before photo the room lacked a lot of light – it felt cramped and features were wrongly placed – that's where AJM bathroom renovations came into play with some clever and unique design work. We have been carrying out bathroom renovations for 25 years plus if there's one thing we know – it's how to make a fabulous bathroom work in any space. Overcoming a room which needed to provide two uses, which has two doorways and needs to fit a double bowl vanity unit and a large walk in shower.....piece of cake!

The newly constructed wall that creates the walk in shower area has a unique feature, the niche used for storing cosmetic bottles is fantastic and makes for a easy to clean storage area, but that's not the unique feature were talking about.....below that.....the other niche – that ladies is the solution to all of our one foot hopping problems trying to shave our legs in the shower. The lower niche that we created is a fantastic foot rest to be able to shave your legs without wobbling or falling, no brackets or wall penetrations like some shelves or foot rests, not only that we perfectly aligned it with the niche above and made it centre to the wall. Small but clever designs make everything a lot easier and more enjoyable.

The double bowl vanity unit is spectacular with the elegant glass bowls, the light bounces off the glass and projects light in all different angles and it makes the room feel very spacious. Moving onto the laundry area, its positioned behind the shower wall, we designed a cabinetry set up for Phil & Vicki to make full use of this area, the washing machine sits on the laundry drawer where all of your laundry can be stored away and with it being elevated slightly there is no need to bend over to get to the washing machine. The tall pantry cabinet next to this has been modified to have lots of shelving for towels and products and also acts as a broom cupboard.

Every aspect of this room and Phil & Vicki's expectations were catered for by AJM bathroom renovations, Phil & Vicki's product selection of such neutral glossy tiles accentuated the classic products selected and acted as a natural light back drop for the room. Another beautiful AJM bathroom renovation with a laundry twist!

Are you ready to start the design process with AJM bathroom renovations for your new luxurious bathroom space?